HOMEbox Ambient Q60+, 60 x 60 x 160 cm
It is small, compact, light and no bigger than a bookshelf. The HOMEbox AmbientQ 60 fits in any room, bathroom, kitchen or even office 😉 . The closed box is light- and air-tight and has additional inlet and outlet openings for watering, air circulation and cable routing. The pots can be placed on the waterproof shelf. The PAR liner transforms this compact grow chamber into a highly productive growing environment with unparalleled reflectivity, combined with effective heat dissipation for high quality crop yields.
Homebox Ambient Q60+: Entry-level box in premium quality
Suitable for 150W systems, LED lighting and energy-saving lamps
Lightweight and easy to transport
High quality materials
The tent material is specially made for our products and is a mix of strong tent fabric on the outside and reflective PE film on the inside.
Total-Blackout Zippers - light-proof zips - without cover flaps with Velcro fastener
The frame consists of coated metal tubes and precise plastic connectors
The closed Homebox is light- and airtight
Additional inlet and outlet openings for ventilation, cable routing and irrigation
Size assembled: 60 × 60 × 160 cm
Openings:
Roof: 150mm
Back side top: 100mm
Side left: 130mm
OmniFlow air vent: 2 x Ø 130 mm (right and left)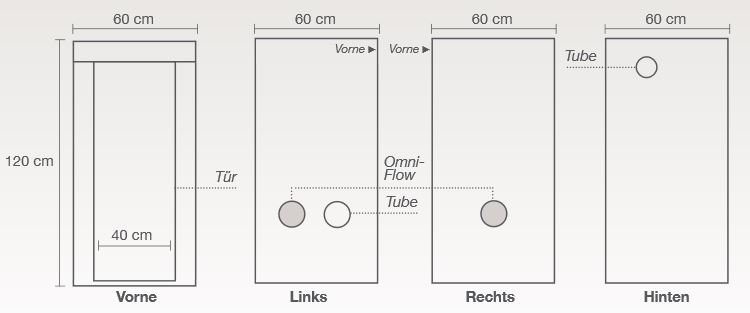 The HOMEbox Ambient Q 60 is a complete self-assembly set. It comes compact and with easy-to-understand assembly instructions. A fantastic greenhouse can be created in just a few minutes.